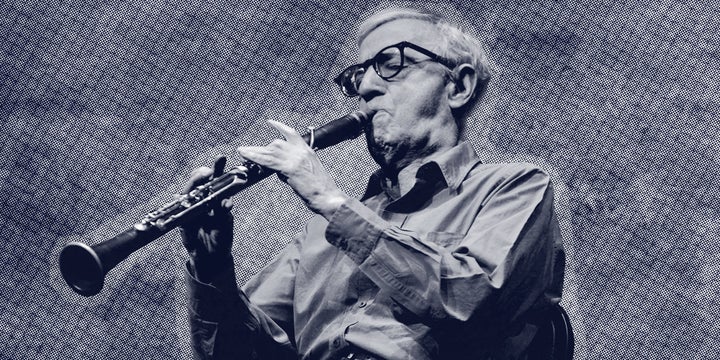 As the Me Too movement continues to reverberate, fans are still lining up to see Allen play his clarinet at a posh New York hotel.
On red carpets and in dozens of news articles, actors associated with Woody Allen have fielded tough questions about their decision to work with a director who's faced
allegations
of sexually abusing his daughter, Dylan Farrow. Some actors have expressed intense
regret
; others have been
shamed
for standing by their choices.
But questions about Allen's conduct don't seem to have troubled New York City's elite society. You don't have to look farther than the Upper East Side's lavish Carlyle Hotel for evidence.
On Monday nights, for just $165 a head ($120 if you sit at the bar), patrons can watch Allen play the clarinet in one of the hotel's intimate, jacket-required restaurants. As diners enjoy $235-per-ounce caviar and $23 cocktails, Allen and the Eddy Davis New Orleans Jazz Band play for nearly an hour and a half, in a weekly residency, year after year, at the iconic hotel.
During two recent performances, one in February and one in April, it was clear that legions of Allen fans will still come to see him perform, even as the Me Too movement continues to have far-reaching impact. Earlier in April, The New York Times and The New Yorker shared a Pulitzer Prize for their reporting on rampant sexual misconduct in the entertainment industry.
Many entertainers have lost their jobs, their reputations and the respect of their fans. But Woody Allen, who has vehemently denied the sexual abuse allegations, goes on ― in his own way.
The Carlyle, owned by Rosewood Hotels and Resorts, rakes in thousands of dollars each time Allen picks up his clarinet and plays for an adoring audience.
Representatives for Allen, the Carlyle and the Eddie Davis New Orleans Jazz Band did not respond to requests for comment for this story.
Many fans apparently don't care about the allegations against Allen. During both visits to the Carlyle Hotel, HuffPost reporters observed a sellout crowd, with people lining up for hours.
Meagan McDonnell, who was visiting New York from Melbourne, Australia, was in line one Monday in April nearly two hours before the Cafe Carlyle opened to make sure she got a seat at the bar. (There are only a handful of bar seats, and a small line had formed to claim them more than an hour before.) For McDonnell, who flipped through a New York City guidebook as she waited in line, seeing Allen had been on her bucket list for 20 years ― ever since she saw "Annie Hall" and "Manhattan," two of Allen's most iconic films.