The veteran criminal defense attorney who headed President Donald Trump's legal team during a crucial stretch of the special counsel investigation believes the entire affair will end in silence from special counsel Robert Mueller, and called the massive two-year probe into Russian interference in the 2016 campaign "a terrible waste of time."
"I don't think there'll be a report," John Dowd told ABC News in a wide-ranging interview for the premiere episode of "The Investigation," a new podcast focused on the probe led by special counsel Robert Mueller. "I will be shocked if anything regarding the president is made public, other than 'We're done.'"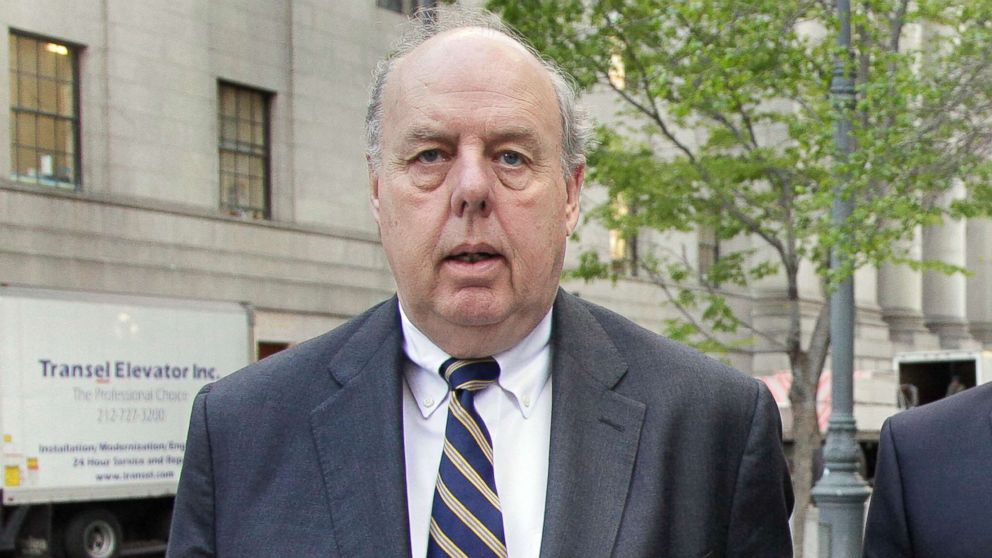 Dowd, 77, left his role as Trump's lead attorney last March over differing views about how cooperative to be with prosecutors. But after spending nearly a year guiding the president's legal strategy, he forged a close relationship with Trump and continues to speak with him about the Russia probe.
In one of his most in-depth interviews since departing Trump's legal team, he offered a view of the probe very much in line with that of the president -– namely, that it lacks merit.
"I know exactly what [Mueller] has," Dowd said. "I know exactly what every witness said, what every document said. I know exactly what he asked. And I know what the conclusion or the result is," he said, describing the sweeping efforts by Trump's legal team to assess the case by speaking to dozens of witnesses. Based on that knowledge, Dowd said, "there's no basis. There's no exposure. It's been a terrible waste of time."
I know exactly what (Mueller) has. I know exactly what every witness said, what every document said. I know exactly what he asked. And I know what the conclusion or the result is.
Dowd's overall view of the investigation — he called it "one of the greatest frauds this country's ever seen" — echoes Trump's claim that it is a hoax or a witch hunt.
That differs sharply from Justice Department officials, who have had a window into the probe, which, to date, has pried guilty pleas out of five former Trump advisers, and indicted 26 Russian nationals, three Russian companies, a California man (for assisting Russians in faking their identities), another Trump adviser, and a London-based lawyer.
In appearances on Capitol Hill, a series of senior administration officials have disputed President Trump's repeated dismissals of the probe.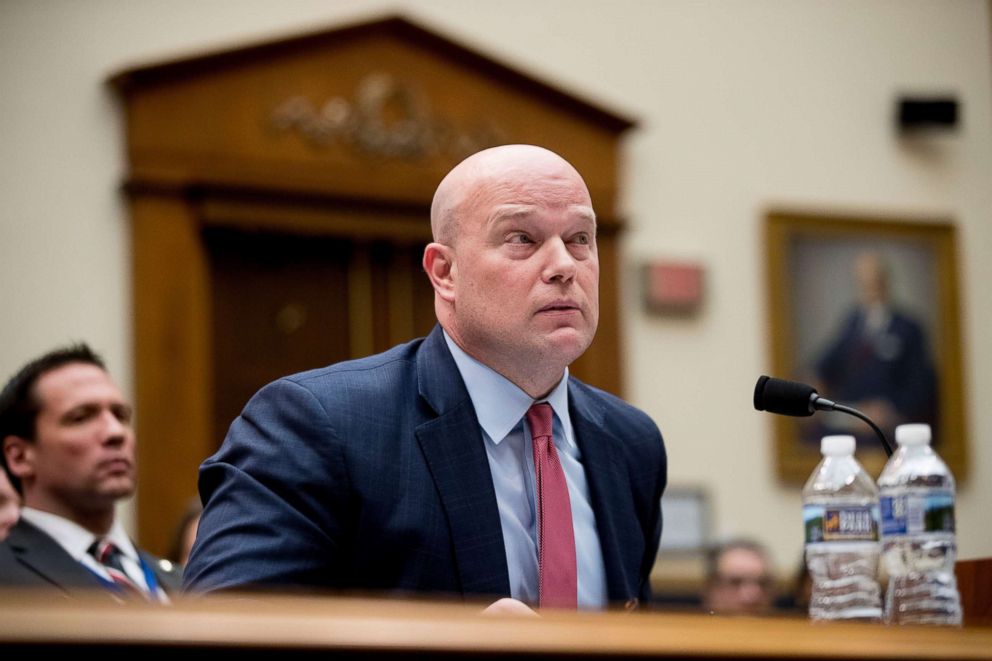 "I do not believe special counsel Mueller is on a witch hunt," FBI Director Christopher Wray told Congress in June, a sentiment shared by Rosenstein — and more recently — by the man appointed to take over the Justice Department, William Barr. Even acting attorney general Matthew Whitaker defended Mueller's work in an appearance before the House Judiciary Committee last week.
"I do believe he's honest," Whitaker said of Mueller. "I have been on the record about my respect for Bob Mueller and his ability to conduct this investigation."
Known for his cantankerous demeanor and aggressive legal tactics, Dowd is a former Marine and a veteran of high profile Washington investigations and legal disputes. He helped clear Arizona Sen. John McCain's name during a 1989 corruption scandal, known as Keating Five, involving an improper influence on behalf of the savings and loan industry. And he led the Major League Baseball investigation that resulted in a lifetime ban for Cincinnati Reds star Pete Rose.
It's not whether he lies or not… It's not a matter of integrity. It's overload.
Trump brought Dowd in to lead his legal defense team one month after the president fired FBI Director James Comey and Mueller was subsequently appointed to serve as the special counsel overseeing the widening probe into Russian interference.
Dowd told ABC News that the president cooperated with the investigation, even producing communications with the White House Counsel that Mueller requested.
"There's no time in history has anybody had this kind of look at communications with the president," Dowd said.
Where Dowd said he drew a line in terms of executive branch cooperation was having Trump consent to an interview.
"What I was worried about is that he really couldn't do it," Dowd said. "He couldn't do it"
One concern was that it would set a precedent that would open the current president and future presidents to this kind of interview.
"You cannot treat the president like anybody," he said.
But a deeper concern, he said, was that prosecutors might try to set perjury traps for the president – a pattern he maintained was on display in the indictments that Mueller's team was filing earlier in the investigation – cases brought against Trump advisors for lying to investigators.
Dowd described those indictments as "What I call nickel-dime process crimes. I ran a strike force. I ran big corruption cases. I didn't go around, picking scabs and just making any case I could make. If there was a petty case, I shifted it to someone else. I didn't do it. And that's where I disagree with Bob."
Dowd said he did not believe Trump would intentionally lie to the Mueller team, but that he would lose track of key details in the swirl of a massive amount of material he had to digest as president every day.
"In my questioning him or talking to him, you know, first question, easy. Second question, easy. Third question, he wasn't sure. And he doesn't like being unsure. So he'll guess," Dowd said. "There's your trap, right there. It's not whether he lies or not… It's not a matter of integrity. It's overload."
Dowd suggested during the interview that he channeled the frustration the president has displayed for months about the probe, and those running it. He believes it should have ended last year, and he was surprised that Mueller and Deputy Attorney General Rod Rosenstein instead allowed it to mushroom.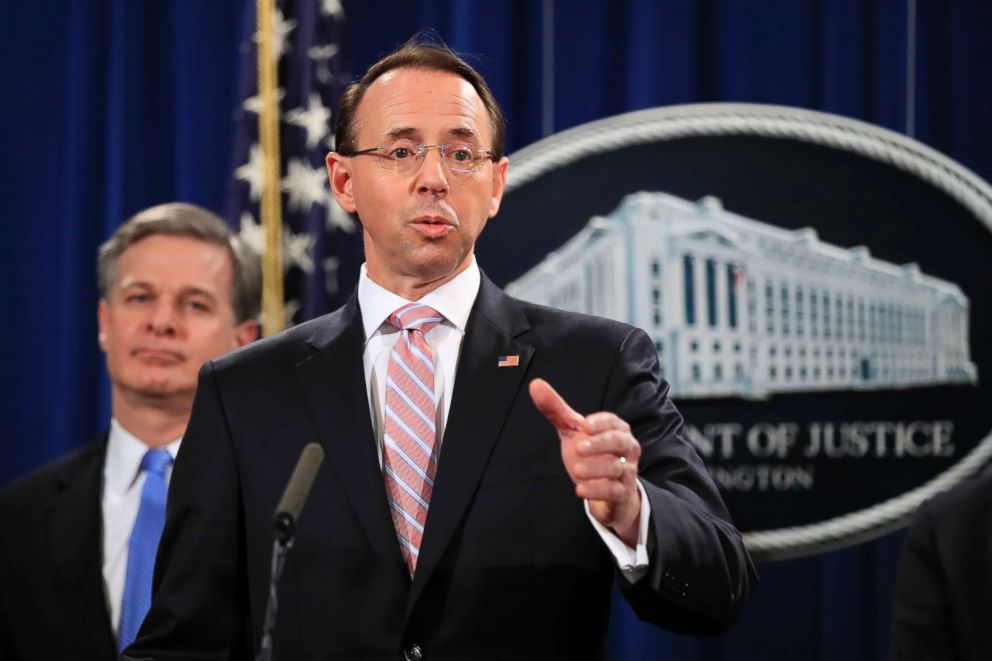 If I was supervising Mueller, (I would) tell him to 'knock it off, get it done.
"If I was supervising Mueller, [I would] tell him to 'knock it off, get it done," Dowd said.
"Your job is to find out if there's collusion or there was obstruction," he said. "And the answer's 'no,' so let's get on with it."
Dowd said that at one point after Comey appeared before Congress, he wrote to Rosenstein to ask for the Justice Department to investigate whether the former FBI director lied in his testimony.
"He blew me off," Dowd said. "That's not leadership. That's not accountability. … We did it in writing. We did it politely. We did it confidentially. And he just blew us off. So, I lost all respect for Rod Rosenstein."
Dowd left his official post as Trump's lawyer after a series of negative reports — most memorable one in September 2017, when Dowd and then-White House attorney Ty Cobb were overheard by a nearby New York Times reporter while eating lunch on the patio of a Washington restaurant as they loudly debated presidential privilege and its effect on document production, and talked about tensions on the legal team.
"The New York Times wants to be jerks about it and go listening in on people's conversations, shame on them," Dowd said. "There's nothing I can do about that, you know — except eat someplace else."
By Kyra Phillips, Chris Vlasto, Matthew Mosk and John Santucci
"The Investigation" is a podcast series offering an in-depth look at special counsel Robert Mueller's investigation into Russian interference in the 2016 presidential election and its aftermath, analyzing the potential fallout and political consequences. Hosted by ABC News correspondent Kyra Phillips and the ABC News investigative team, led by Senior Executive Producer Chris Vlasto. "The Investigation" is available for free on Apple Podcasts(via iPhone), Google Podcasts (via Android), Spotify (via smartphone and desktop), Stitcher (via smartphone and desktop), TuneIn (via smartphone and desktop), the ABC News app (via your smartphone) or your favorite podcast player.