A diplomatic row between France and Italy has deepened, with France complaining of "unfounded attacks and outlandish claims" by Italian leaders.
France recalled its ambassador to Italy for talks on Thursday, saying the situation was "unprecedented" since the end of World War Two.
It comes after Italian Deputy PM Luigi Di Maio met French "yellow-vest" protesters near Paris on Tuesday.
France warned him not to interfere in the country's politics.
Relations between the two countries have been tense since Italy's populist Five Star Movement and right-wing League party formed a coalition government in June 2018.
The two governments have clashed over a range of issues, including immigration.
What happened with Mr. Di Maio?
The latest spat began after Mr. Di Maio, the leader of Five Star Movement, met leaders of the anti-government "gilets jaunes" protests on Tuesday.
He posted a picture of himself on Twitter with a group including Ingrid Levavasseur, who is heading a yellow-vest list for elections to the European Parliament in May.
What has France said?
"For several months France has been the subject of repeated accusations, unfounded attacks, and outlandish claims," the foreign ministry said on Thursday. "The most recent interferences constitute an additional and unacceptable provocation. They violate the respect that is owed to democratic choices made by a nation which is a friend and an ally. To disagree is one thing, to exploit a relationship for electoral aims is another."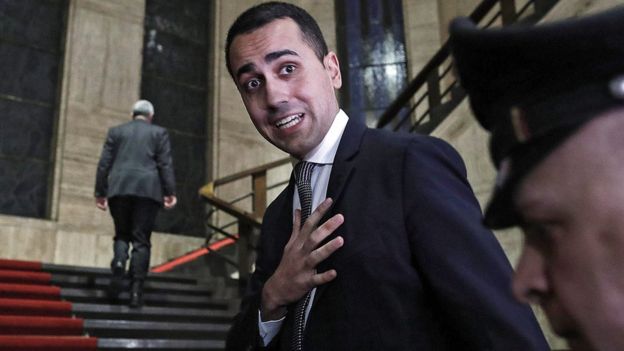 Italy's fellow Deputy Prime Minister Matteo Salvini later sought to ease tensions, saying he would be happy to hold talks with President Emmanuel Macron. But to "reset" relations he said France had to address "fundamental" issues. He called on Paris to hand over left-wing militants wanted by Italy and to stop returning migrants. He also complained of lengthy French border checks causing traffic jams at the frontier.
Mr. Salvini launched a direct personal attack on Mr. Macron last month, saying he hoped the French people would soon be able to "free themselves of a terrible president".
Writing on Facebook he said: "The opportunity will come on May 26 (European elections) when finally the French people will be able to take back control of their future, destiny, (and) pride, which are poorly represented by a character like Macron."
On Wednesday, the French foreign ministry called Mr. Di Maio's visit a "new provocation" that was "unacceptable between neighboring countries and partners at the heart of the EU".
The BBC's Hugh Schofield in Paris says the row represents a new low in the fast deteriorating relationship between Paris and Rome.
What is the background?
Much of the tension between the two countries has been about migration.
When France criticized Italy for not allowing rescue boats carrying migrants in the Mediterranean to dock, Italy responded by accusing France itself of refusing to accept migrants.
Italy says France has sent migrants back across Italy's northern border.
In January, France summoned Italy's ambassador after Mr. Di Maio said Paris had "never stopped colonizing tens of African states".
Also last month, Mr. Salvini accused France of harboring 14 "terrorists" wanted by Italy, after a fugitive ex-militant was extradited from Bolivia.
France has also grown impatient with Italy over the building of a Lyon to Turin high-speed rail link which the Italian coalition partners cannot agree on.
Who are the 'gilets jaunes'?
The gilets jaunes protesters first took to the streets in November, angered by fuel tax increases. They said the measure hurt those who lived in remote areas of France and who depended on cars.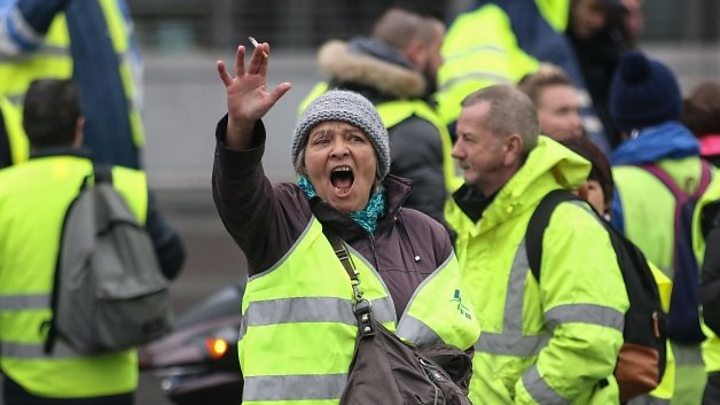 The movement derives its name from the high-visibility yellow vests protesters wear – and which French motorists are required by law to carry in their vehicles.
But since their first marches – and the government's subsequent U-turn on fuel taxes – their demands have expanded to boosting people's purchasing power and allowing popular referendums.
Mr. Di Maio has found common cause with the protesters, urging them not to give up and offering them "the support you need".