Freedom takes many forms, and there are many different ways to protect it. Whether you're protesting on the street, on social media or through your business, you might be making a major difference.
Radio 4's Riot Girls is a series of programmes about the women who are pushing for change. Riot Day is a drama about Russian feminist punk protest group Pussy Riot and their notorious 2012 arrest, trial and imprisonment for protesting the Orthodox Church's support of Russian President Vladimir Putin. It is Maria Alyokhina's first-hand account, dramatized by E V Crowe and starring Katie West.
To celebrate the spirit of Pussy Riot, here are ten female freedom fighters to be inspired by.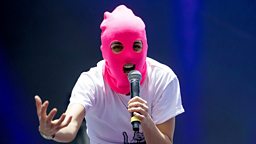 Russian feminist punk protest group Pussy Riot
Gina Martin
Gina Martin became an activist after a harrowing personal experience.
When police refused to prosecute a man who took upskirt photographs at a music festival, she started a campaign to make upskirting a criminal offence.
After she worked and campaigned for over a year, in June 2018 the government announced it would be introducing the legislation as part of a government bill. The bill was blocked by the Conservative backbencher Sir Christopher Chope.
Martin's campaign immediately went viral, and UK Prime Minister Theresa May promised to introduce a new law to ban upskirting following the public backlash to Chope's block.
Reni Eddo-Lodge
Activist and writer Reni Eddo-Lodge is the author of the bestselling, acclaimed non-fiction book Why I'm No Longer Talking To White People About Race. Through her writing and activism, she has encouraged millions of feminists to understand why intersectionality needs to be an integral part of feminism.
Eddo-Lodge made headlines when she was interviewed by the actor Emma Watson, who read the book and encouraged her fans to ask themselves, "In what ways have I benefited from being white?"
Eddo-Lodge won the prestigious Jhalak Prize for her book, and donated her prize money to the 4Front project, a youth-led enterprise that supports young people in reducing violence and crime in their communities.
Malala Yousafzai
Malala became known around the world as an activist for the education of women when, in October 2012, in her home district of Swat in Pakistan, she was shot on a bus in an attempted assassination by a Taliban gunman. At the time, she was just 15 years old.
Following the attack, she was hospitalised in Birmingham, where she set up the Malala Fund, which has paid for the education of girls across the world from Pakistan to Nigeria and Sierra Leone.
In 2014, Malala was awarded the Nobel Prize for Peace, together with the Indian children's rights activist, Kailash Satyarthi.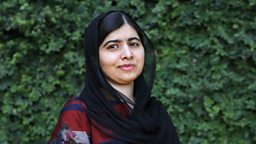 Malala Yousafzai
Amika George
In December 2018, Amika George, the founder of the #FreePeriods campaign, organised a peaceful protest calling for Theresa May to provide free menstruation products to girls who already receive free school meals. Her work raises awareness of the fact that period poverty is an issue that affects people in the UK, as well as in developing countries.
Amika, who was just 17 when she started the campaign, has inspired over 83,000 people to add their names to the #freeperiods online petition. She says that eradicating period poverty is vital for our health, freedom and progress.
She told Vogue magazine, "A normal biological process affecting half of the world's population shouldn't stop any of us from being the best version of ourselves."
Amika George and Sharon White dicsuss period poverty with Jane Garvey.

Campaigner Amika George challenges the status quo by talking about period poverty.

Comedian Deborah Frances-White and her special guests discuss topics "all 21st century feminists agree on" while confessing their insecurities that underlie their lofty principles.
Charlie Craggs
The writer and campaigner Charlie Craggs created the Nail Transphobia movement, which has led to her speaking in parliament about ways to support the trans community.
Charlie gives manicures while inviting her clients to ask questions about trans issues. She explains that "people go away with more than just a manicure – they go away an ally."
Charlie has also published a book, To My Trans Sisters, a collection of letters written by trailblazing trans women, containing practical and emotional advice for other trans women at the start of their journey.
Deborah Frances-White
The comedian Deborah Frances-White is famous for her smash hit podcast, The Guilty Feminist, in which she uses comedy to encourage her guests and her audience to open up about their imperfect feminist moments while embracing feminism and discussing the issues and challenges that women face.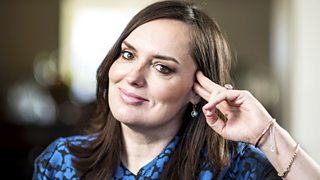 Deborah Frances-White
She's often explained that she created the podcast as a panel show for women, in order to flout the fact that many comedy shows have a predominantly male line-up. She frequently invites feminist activists to speak on the podcast and gives them a platform to shout about their work.
The Iranian woman who protested against the headscarf law
In March 2018, an unidentified Iranian woman was sentenced to two years in prison after she publicly removed her headscarf while in the centre of Tehran.
Since 1979, all women in Iran have been subject to a law that means they must cover their hair at all times. Typically breaking this law results in a two-month sentence and a $25 fine, but Tehran's chief prosecutor, Abbas Jafari Dolatabad pushed for the maximum penalty – the woman has yet to be identified, but she has become a global icon of female freedom.
It's important to mention Iranian journalist and protester Masih Alinejad who started the social media movement #mystealthyfreedom, who has had to move permanently to the US after receiving death threats in her own country.
Masih Alinejad is a journalist and activist from a small village in Iran. In 2014 she sparked a social media movement when she shared a picture of her curly hair blowing in the wind. This is the story of that photo…
Megan Jayne Crabbe (AKA @Bodyposipanda)
Youtuber and social media star Megan, best known as @bodiposipanda, shares inspirational life advice with her million followers; she is committed to creating "a bopo safe space for them" – a community where women are never judged or criticised for any insecurities or anxieties they might have around body image.
She has opened up about what it is like to be in recovery from an eating disorder and how important it is to challenge mainstream beauty standards for the sake of our mental health.
Megan says that her favourite quote is from Naomi Wolf's The Beauty Myth: "She wins who calls herself beautiful and challenges the world to change to truly see her."
Saffiyah Kahn
For a few weeks, Saffiyah Kahn had one of the most famous faces in the UK. She was captured on camera while she intervened to defend a Muslim woman who had been surrounded by English Defence League (EDL) protesters during a march.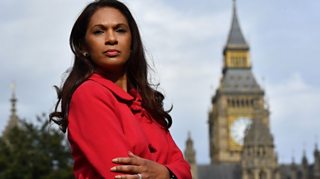 Gina Miller. Photo: BBC
Saffiya caught the public's imagination with her courage and bravery. While the EDL protesters were pictured shouting, and visibly trying to intimidate her, she smiled back. She did not look angry, but she showed that a smile can be a positive form of direct action.
Gina Miller
Gina Miller is best known as an anti-Brexit activist who brought about a successful challenge to the UK government over its right to invoke Article 50 without reference to Parliament, in spite of facing huge amounts of abuse from some Brexit supporters.
Miller has also successfully campaigned for greater transparency in the charity sector.
In 2017 she was named as the UK's most influential black person, and has pledged to keep doing work she believes in, in order to inspire others to do the same, telling the Guardian, "I've had people say there are only three positions a woman of colour can have – that is a prostitute, a cleaner or having babies."
Riot Days is Maria Alyokhina's account of her activism, trial and imprisonment, as part of Russian feminist punk protest group Pussy Riot.
The programme features in BBC Radio 4's Riot Girls season – a series of no-holds-barred dramas written by women, featuring extraordinary female characters and their lives.